Volume 2:

The Life of Saint Hugh of Avalon
Bishop of Lincoln 1186–1200
Gerald of Wales (Giraldus Cambrensis)
Edited and translated by Richard M. Loomis (1986)

Born about the year 1140 in the foothills of the Alps near Grenoble, Hugh of Avalon became a Carthusian monk at La Grande Chartreuse, observing an ascetic discipline devoted to prayer and contemplation. In his mid-40s, he was summoned to England to help found the first Carthusian monastery in that country at Witham in Somersetshire. His success was such that in 1186 he was elected Bishop of Lincoln. As bishop, Hugh helped to make Lincoln a center of learning, rebuilding the cathedral in the new Gothic style and winning the respect of the leaders of his age, including Pope Innocent III and the kings of England, Henry II, Richard I, and John (who helped carry the bier at Hugh's funeral in 1200).
Hugh gained a reputation for sanctity and mercy during his life thanks to his concern for the poor, his love for children, his hospitality, and his defense of the Jews. His kindness, wit and cheerful disposition won him a wide circle of friends, including a wild swan which guarded him while he slept and subsequently became his chief iconographic emblem. Hugh was perhaps most famous for delivering a stinging public rebuke to Richard I, which the king received with grave humility. Hugh was canonized a saint in AD 1220.
This edition of the Vita Sancti Hugonis, originally written by St. Hugh's contemporary Gerald of Wales, is the earliest biography of Hugh and contains both the original Latin and a translation in English by Richard M. Loomis. Divided into two parts, the first treats of Hugh's life, deeds, virtues and death. The second part contains a fascinating litany of miraculous events associated with those who visited the saint's tomb. The volume also includes a detailed introduction by the editor and an appendix containing an excerpt from the Metrical Life of St. Hugh describing the construction of Lincoln cathedral, as well as several illustrations and photos. Overall, the work provides an intimate portrait of one of the outstanding churchmen of the age and offers a window into life in 12th century England.

January 2014 [1986] ~ paperback ~ 232 pp. ~ 10 b&w illus. ~ ISBN 978-1-935228-10-3 ~ $19.95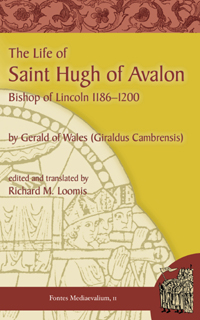 Order online and
receive a 10% discount!

NOW
AVAILABLE!