Volume 11:



The Fragmentary History of Priscus


Attila, the Huns and the Roman Empire, AD 430–476
John P. Given, PhD, East Carolina University, translator

"A clear, accessible and intelligent approach to the remains of this important late Roman historian and his increasingly fragmentary world."


—The Bryn Mawr Classical Review



"For a historian, this book has appeal; for the average reader just interested in a biopsy of the fifth century CE this excellent book will be ideal-well researched, well written and accessible."


—Classical Journal Online



"Given is to be congratulated for what is, on the whole, a very readable and useful work that one hopes will bring Priscus to a much wider audience."


—Ancient History Bulletin



"This is a magnificent work. It is logically organized with appropriate comments added to the translated fragments to ensure clarity and a continuous story. The author is intent on emphasizing Priscus's unique voice. In this he succeeds remarkably. Given the fragmentary nature of Priscus's work, this is no mean feat. The author's writing style is clear and lucid, and will greatly appeal to a non-specialist audience."


—Prof. Michael D. Blodgett, California State University, Northridge



"The author has done a remarkable job situating Priscus in historical, literary and textual context. I teach a required historiography course which uses debates over barbarians as a case study. I would assign the present translation to this class without hesitation because of its clarity and its faithfulness to the spirit of the fragments."


—Prof. Mark W. Graham, Grove City College



Attila, king of the Huns, is a name universally known even 1,500 years after his death. His meteoric rise and legendary career of conquest left a trail of destroyed cities across the Roman Empire. At its height, his vast domain commanded more territory than the Romans themselves, and those he threatened with attack sent desperate embassies loaded with rich tributes to purchase a tenuous peace. Yet as quickly he appeared, Attila and his empire vanished with startling rapidity. His two decades of terror, however, had left an indelible mark upon the pages of European history.
Priscus was a late Roman historian who had the ill luck to be born during a time when Roman political and military fortunes had reached a nadir. An eye-witness to many of the events he records, Priscus's history is a sequence of intrigues, assassinations, betrayals, military disasters, barbarian incursions, enslaved Romans and sacked cities. Perhaps because of its gloomy subject matter, the History of Priscus was not preserved in its entirety. What remains of the work consists of scattered fragments culled from a variety of later sources. Yet, from these fragments emerge the most detailed and insightful first-hand account of the decline of the Roman Empire, and nearly all of the information about Attila's life and exploits that has come down to us from antiquity.
Translated by classics scholar Professor John Given of East Carolina University, this new translation of the Fragmentary History of Priscus arranges the fragments in chronological order, complete with intervening historical commentary to preserve the narrative flow. It represents the first translation of this important historical source that is easily approachable for both students and general readers.



2014

~ paperback ~ 252 pp. + map ~ ISBN 978-1-935228-14-1 ~ $22.95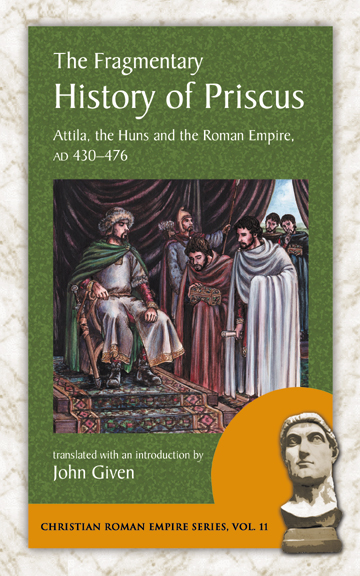 Order online and
receive a 10% discount!

Order for Kindle [$9.99]
Order on Google Play [$19.95]